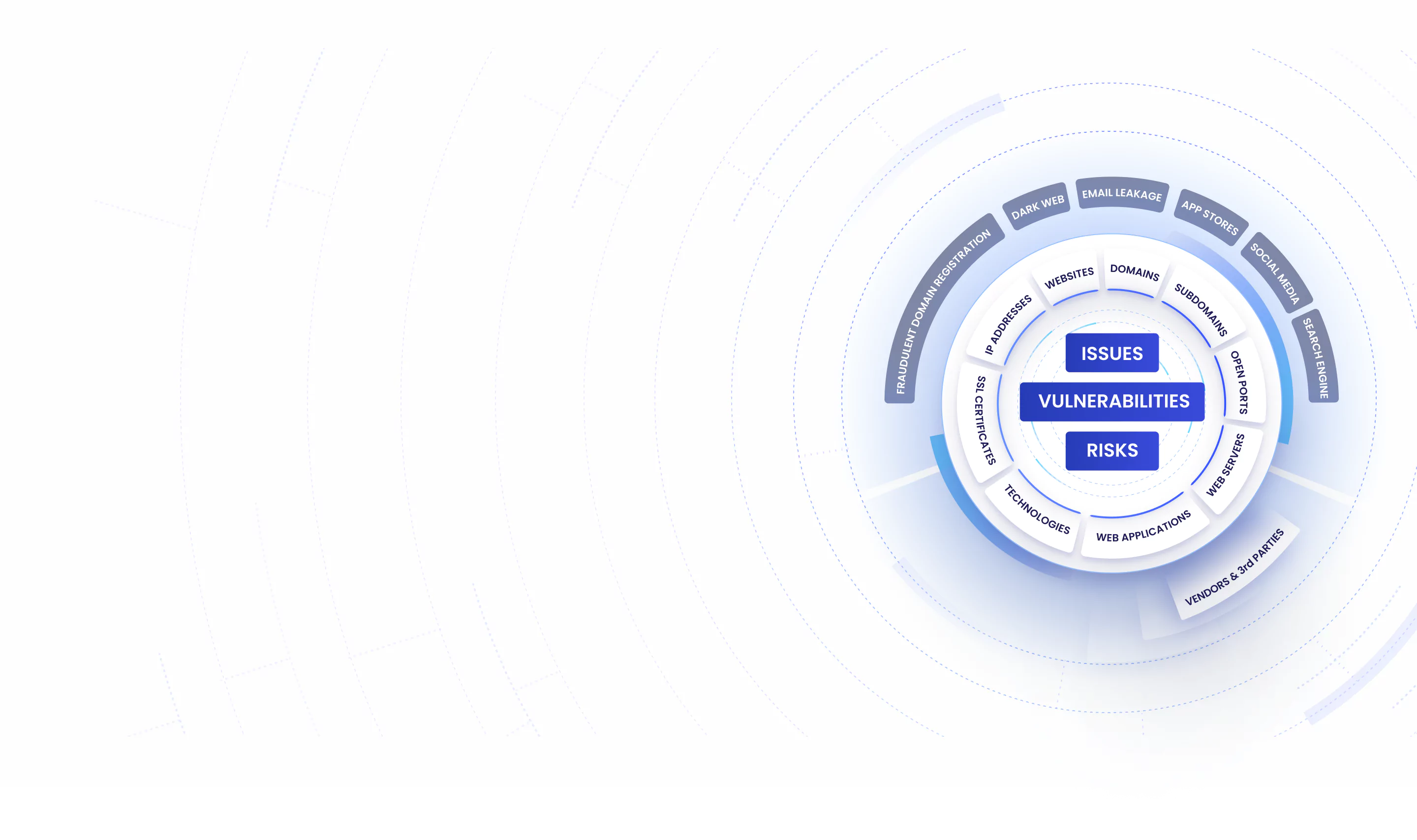 Discover, Monitor
Secure Your
Attack Surface
Deepinfo Attack Surface Management Platform helps you
discover, monitor, and secure your organization's external
attack surface from cyber threats.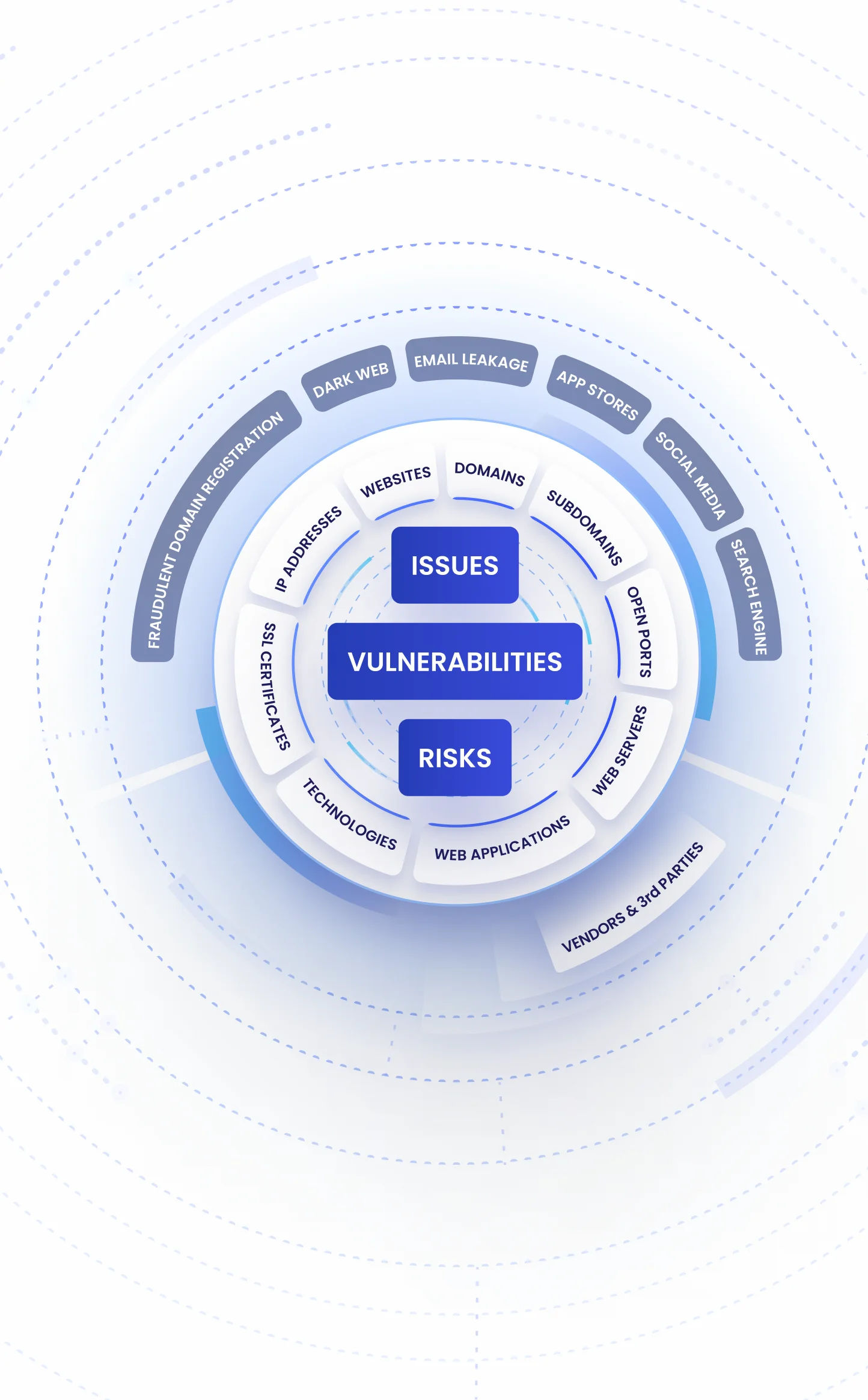 Attack Surface Management Platform
Discover, Monitor, Detect and Secure.
Smart
Asset Discovery
Discovers all your digital assets automatically: domain names, subdomains, websites, IP addresses and more.
Continuous
Monitoring
Monitors all your assets 24/7. Checks Whois, DNS, SSL, open ports, technologies, web data, and more.
Comprehensive Issue & Vulnerability Detection
Detects and prioritizes issues and vulnerabilities. Offers quick remediation to prevent attacks.
360°
Brand Monitoring
Protects your brand with fraudulent domain detection, email leakage, dark web and social media monitoring.
3rd Party & Vendor Risk Scoring
Identifies, monitors and scores your vendors automatically, making third-party risk management easy.
Rich
Integrations
Allows you to easily integrate with other security products and see the insights anywhere you wish.
See Your Attack Surface Today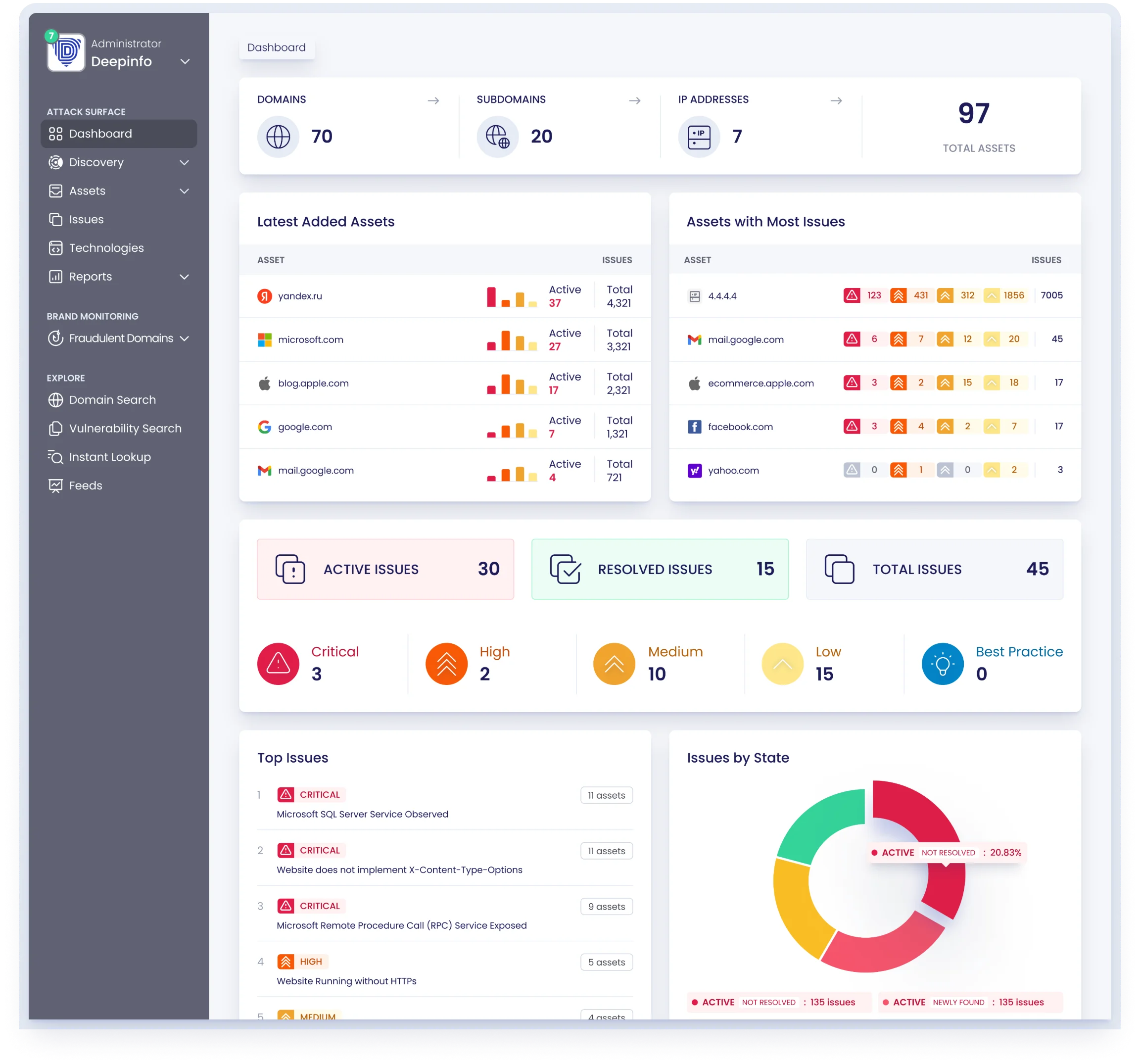 Trusted by the Best
We empower the security of organizations worldwide.
Dr. Emin İslam Tatlı
Director of Cyber Security
Businesses all over the world trust Deepinfo
to ensure their security.
Data Feeds
Deepinfo Data Feeds provide the most comprehensive, accurate, and up-to-date data about domain names. With Deepinfo, you can get real-time streams of newly registered domains and newly discovered subdomains, as well as historical Whois and DNS records up to 10 years for more than 400 million domain names and 2 billion subdomains.
Exclusive Feeds
Access all 400 million domain names and 2 billion subdomains with historical Whois & DNS records.
Daily Feeds
Get all the domain names and subdomains created in the last 24 hours.
Real-time Stream
Track newly registered domains and newly discovered subdomains in real-time.
See Our Data Solutions
API Services
Deepinfo API Services offers over 50 APIs to fulfill all your cybersecurity requirements. Access the most extensive Internet data through our well-designed APIs and get the comprehensive service you need. Our APIs are widely used by security teams, threat intelligence analysts, and researchers to protect their organizations from cyber threats.
Search APIs
Search in all 400 million domain names and 2 billion subdomains with 200+ data filters you can't find anywhere else.
Monitoring APIs
Monitor the changes on the Internet. Domain registrations, Whois & DNS updates, SSL changes and more.
Instant Lookup APIs
Get real-time records of Whois, DNS, SSL, HTTP, Screenshots, Technology, Port Scans, and more.
See Our API Solutions